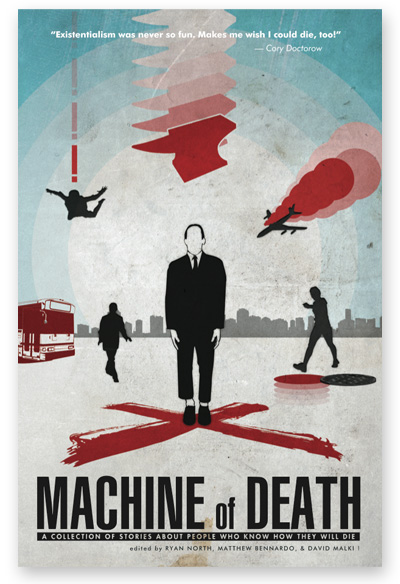 464-page trade paperback.
ISBN-13: 978-0982167120

Machine of Death
A Collection of Stories About People Who Know How They Will Die
Edited by Ryan North, Matthew Bennardo, & David Malki !

Five years in the making, this collection of short stories takes a premise from a talking-dinosaur comic strip -- what if there was a machine that could tell you, cryptically but with 100% accuracy, how you were going to die? -- and spins it into 34 amazing short stories, exploring different worlds in which this machine is a reality. Chosen from nearly 700 submissions, these 34 run the gamut from quirky to somber, dramatic to hilarious, and each bears a chapter-heading illustration by some of the finest talents in the world of independent comics.
For years, publishers and agents fell in love with this collection, but nobody was willing to take the financial risk of publishing an anthology by a bunch of "unknowns" in a tricky economy. Undeterred, the editors invested their personal funds into the book's production and declared October 26, 2010, "MOD-Day." On that day, they asked their online fans to purchase the book on Amazon, in an attempt to become a bestseller for one single day.
Around 10AM Pacific time, the book hit #1 in all categories and remained there for over 24 hours.
Dragged into existence by three dedicated entrepreneurs against all odds, it sold over 5,000 copies its very first day, without a single cent spent on marketing. Machine of Death is a true independent success story.
"...Machine Of Death is a marvelous collection, riddled with intelligence, creative reach, and a frankness that makes the best use of the central gimmick. While the seed idea seemingly lends itself to twist-ending stories about people who try to evade their predicted deaths, there are only a few of those; more often, the stories examine how the death-predictor machine would change the world."


"Personally, I found Machine of Death a lively, self-assured, and diverse read. The stories aren't as similar as you might think from the premise, the editors have done a good job of breaking up the text with the art, and the whole enterprise has an air of subversion and energy that supports the outrageously cool way in which they managed to get the book world's attention. This is DIY publishing at its best, and a perfect example of the way in which creative, clever editors can use to their advantage the new leveling of hierarchies, existence of more accessible means of distribution, and diversity of ways to make a project visible to readers."

-- Jeff VanderMeer, Omnivoracious

"For an anthology that deals with the inevitability of death, Machine of Death is a lot of fun. The editors knew not to start off heavy, nor does the tone of the anthology lean too long in any direction, providing a lot of singular entertainment for the reader... Highly engaging, interestingly crowdsourced, and crafted with a great deal of care. You'll be thinking about it long after you're through reading."
MORE INFORMATION, INCLUDING AUDIOBOOK AND EBOOK DOWNLOADS : MACHINEOFDEATH.NET
88-page trade paperback.
ISBN-13: 978-0982167106
The Annotated Wondermark
Volume #0 of the Eisner-nominated humor series
By David Malki !

Enjoy this very first collection of Wondermark, a sarcastic, silly, and razor-sharp gag comic strip created entirely from 19th-Century woodcuts and engravings. This volume, now in its fifth printing, includes the first 100 Wondermark strips as well as a Making-Of-Wondermark article and about 10 other pages of material never published online. Featuring an introduction by Ryan North of Dinosaur Comics... and one comic that was too hot for the Web. It's just like a DVD what with all the special features, except more flammable and it won't fit in your player! Also, the book can be operated successfully by old people.
Wondermark has been nominated for the Eisner Award, the highest honor in comics, for "Best Humorous Publication," as well as Ignatz and Harvey awards in similar categories. Wondermark runs weekly in college and alternative newspapers nationwide as well as online in The Onion's AV Club.
"...I was so excited to have received the book so quickly that I read the entire thing in one sitting, which I would not necessarily recommend, as I spent the next four days thinking in snippety Wondermark punchlines and comic panels, which was a very bizarre experience... The humour often comes from non sequiturs and anachronisms (primarily, of course, the juxtaposition of modern-day dialogue with the turn-of-the-century illustrations) and what I find rather fascinating about the work is that the humour in the pieces is very dependent on the reader's mood and disposition: what you many not find at all amusing on one day you may find absolutely hysterical a few days later. However I must confess to not being smart enough to understand all the humour, but that which I do find funny, I find very, very funny."

READ WONDERMARK COMICS FOR FREE AT : WONDERMARK.COM
294-page trade paperback.
ISBN-13: 978-0982167113
Hey World Here Are Some Suggestions
The Overly-Complete Tweet Me Harder Volume 1
By Kris Straub & David Malki !

How can a centrifuge be used to reverse male-pattern baldness? Do whales experience the passage of time at a faster rate than surface-dwellers? And why does Garfield hate Mondays -- he doesn't even have a job! The answers to these and literally another question are found in this hilarious collection of conversations between Kris Straub and David Malki !, the hosts of Tweet Me Harder, the world's first, best, only, and last talkback-enabled interactive audio podblast.
This volume collects Episodes 1-10 of the popular podblast -- an iTunes staff favorite -- and adds annotations, illustrations and indexing for rapid reference. Never again wonder how many grappling-hooks it takes to brake a car, or whether Minnie Mouse was coming on to you back in the nineties, or who won the rap battle with Fake Stan Lee: all the answers are here in the book.
iTunes listener reviews of Tweet Me Harder:
"A dadaist masterpiece, Tweet Me Harder provides the driest wit and humor this side of the Atlantic Ocean."
"[Kris and David have a] trademark ability to craft a tangential 20-minute conversation on absolutely any topic on a dime that's not only informed and weird, but entertaining."
"When Kris and David get off on a jag on some ludicrous entrepreneurial idea, whether about wind-tunnel-based hair-replacement systems, variable-configuration clothing maintained by spiders, or simply a special radio to talk to schizophrenics -- this show is golden."
"For five years now, I keep looking for new and interesting podcasts that push the form. My biggest distress with the medium has been the way that people generally stick to the safe formats... I've recently found a show that I think has all the cool format-breaking goodness I long for as well as being legitimately funny. That can be rough to come by sometimes. It's called Tweet Me Harder... It's everything I would have hoped to have gotten from You Look Nice Today but that I never actually did."
LISTEN TO TWEET ME HARDER FOR FREE AT : TWEETMEHARDER.COM